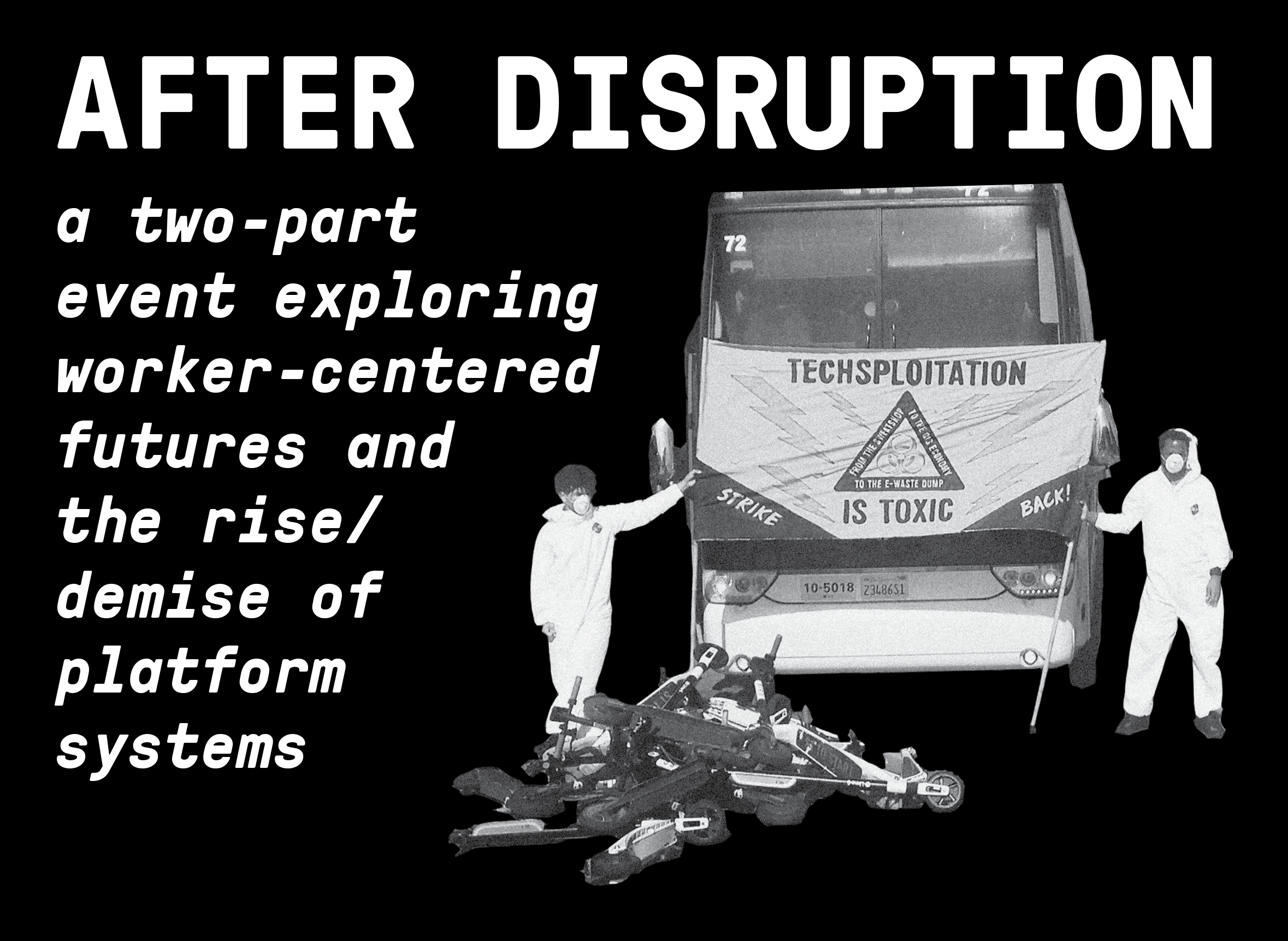 Please join README as we host…
After disruption: a two-part event exploring worker-centered futures and the rise/demise of platform systems
Friday, April 12, 2019, 7pm
UCLA Broad Arts Center, EDA
RSVP required: pretix.eu/readme/after-disruption
Part One: Understanding the Landscape
7:00 – 8:30 pm
A conversation on Big Tech, the future of labor, and how systems have successfully been co-opted in the past. Guest Speakers include:
Cory Doctorow, Special Advisor to the Electronic Frontier Foundation
Dr. Britt Paris, Researcher at Data & Society
Dr. Sarah T. Roberts, Asst. Professor in the Dept. of Information Studies
Saba Waheed, Research Director at the UCLA Labor Center
Part Two: Envisioning the Future
8:30 – 9:30 pm
A collaborative, participatory workshop led by README and LA Cryptoparty where audience and speakers join together to re-imagine how platforms function.
RSVP
As seating is limited, we ask that you RSVP at pretix.eu/readme/after-disruption. In the event you are unable to attend, please use the link provided in your confirmation email to make your spot available again.
Location
UCLA Broad Arts Center
EDA, First Floor
240 Charles E Young Drive N
Los Angeles, CA 90095
Parking/Public Transit/Accessibility

Pay parking is available in nearby UCLA Parking Structure 3. Look for the short-term, non-permit parking spaces, where you will find meters that accept credit card or cash (no change). Parking begins at $3/hour and goes up to $12/day. Find more details including directions for accessible parking at transportation.ucla.edu/campus-parking/visitors.
Public transit information can be found at lacmta.metrocloudalliance.com.
Additional information regarding transit and directions can be found here.
The Broad Art Center is wheelchair-accessible. The EDA, where this event is being held, is on the first-floor of the building in close proximity to two restrooms with accessible stalls. Additional gender-neutral restrooms are located in nearby buildings – MacGowan Hall and the Young Research Library.
Questions?
Let us know if you have questions about this event by emailing us at uclareadme@riseup.net or tweet us at @uclareadme.
---
Speaker Bios
Cory Doctorow is a science fiction novelist, blogger and technology activist. He is the co-editor of the popular weblog Boing Boing, and a contributor to many magazines, websites and newspapers. He is a special consultant to the Electronic Frontier Foundation, a non-profit civil liberties group that defends freedom in technology law, policy, standards and treaties. He holds an honorary doctorate in computer science from the Open University (UK), where he is a Visiting Professor; he is also a MIT Media Lab Research Affiliate and a Visiting Professor of Practice at the University of South Carolina's School of Library and Information Science. His novels have been translated into dozens of languages and are published by Tor Books, Head of Zeus (UK), Titan Books (UK) and HarperCollins (UK).  He co-founded the open source peer-to-peer software company OpenCola, and serves on the boards and advisory boards of the Participatory Culture Foundation, the Clarion Foundation, the Open Technology Fund and the Metabrainz Foundation.
Britt Paris is an information studies scholar focused on developing a sociotechnical understanding of how groups—from technologists to civil society organizations—understand, build, and use Internet infrastructure in accordance with their value systems. She is currently a researcher at Data & Society Research Institute in New York City investigating the trajectory of and technological imaginaries present in current debates over artificial intelligence-generated audiovisual production. She has previously published work on Internet infrastructure projects, digital labor, and civic data analyzed through the lenses of critical, feminist, and de-colonial theory. She has her MA in Media Studies from the New School in New York City and her PhD in Information Studies from the University of California Los Angeles. She will be joining the faculty at Rutgers University as Assistant Professor in the Department of Library and Information Science in Fall 2019.
Sarah T. Roberts is an Assistant Professor in the Department of Information Studies (Graduate School of Education & Information Studies) at UCLA. She holds a Ph.D. from the iSchool at the University of Illinois at Urbana-Champaign. On the internet since 1993, she was previously an information technology professional for 15 years, and, as such, her research interests focus on information work and workers and on the social, economic and political impact of the widespread adoption of the internet in everyday life. Professor Roberts is internationally recognized as a leading scholar on the emerging topic of commercial content moderation of social media (or CCM, for short) a term she coined to define the field study around the large-scale, industrial and for-pay practice of social media user-generated content adjudication.  She served as consultant to and is featured in the award-winning documentary, The Cleaners, which debuted at Sundance 2018 and aired on PBS in the United States in November 2018. She is a 2018 Carnegie Fellow and a 2018 recipient of the EFF Barlow Pioneer Award for her groundbreaking research on content moderation of social media. Her book on commercial content moderation, Behind the Screen: Content Moderation in the Shadows of Social Media, is forthcoming in 2019 from Yale University Press.
Saba Waheed is Research Director at the UCLA Labor Center. She has fifteen years of research experience developing projects with strong community participation. With her team at the UCLA Labor Center, she coordinated the first ever study of domestic work employers, launched a study of young people in the service economy, and conducted research on the taxi industry. She has also conducted research in other industries such as garment, nail salon, construction and restaurant industries. Previously she was Research Director at DataCenter, where she worked with community organizations around the country and conducted research on various issues such as housing, transportation, education, and non-profit sustainability. She also helped develop the framework of "research justice," which aims to address the structural inequities in research. In addition to her research work, Saba is an award-winning radio producer and writer. She co-produces the radio show Re:Work, a storytelling show about work and Flip the Script on KPFK. She co-wrote and co-produced an animated film, I am a #youngworker. She also writes fiction. Saba strongly believes that research and media are powerful tools for community storytelling. She received an MA in Anthropology from Columbia University.